By Dr. Hasina Akhter
INTRODUCTION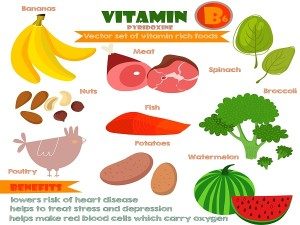 Vitamin B6 is one of the nine water soluble B vitamins. It is also known as pyridoxine (3-hydroxy-4, 5-dihydroxy-methyl-2-methylpyridine). Pyridoxal-5'-phosphate (PLP) is the coenzyme form of this vitamin that plays a vital role in more than 100 enzymatic reactions involved in amino acid and protein synthesis as well as fatty acids and carbohydrates metabolism (1–2).
DISCOVERY
In 1930, Peters and colleagues first reported "rat acrodynia", a disease where rats suffer from severe skin injury. Four years later in 1934, Gyorgy discovered vitamin B6 as an effective factor to treat this disease (3–4).Thereafter it was isolated in crystalline form by Lepkovsky in 1938 (5). In the following year, Harris and Folkers, and Kuhn and his associates separately showed vitamin B6 as a pyridine derivative (6,7,8).
STRUCTURE
The structure of vitamin B6 (pyridoxine and PLP) are given below:
Pyridoxine
Pyridoxal-5'-phosphate (PLP)
Other than pyridoxine and PLP, five more isoforms of this vitamin are pyridoxal, pyridoxine 5'-phosphate (PNP), pyridoxamine (PM), pyridoxamine-5'-phosphate (PMP) and 4-pyridoxic acid (PA).
DIETARY SOURCES (9–12)
Major dietary sources of vitamin B6 are chicken, beef liver, fish (Tuna, Herring, Trout, Salmon), whole grain foods, nuts, potatoes, sweet potatoes, spinach, avocado, brewer's yeast and some non-citrus fruits such as banana, watermelon etc. Fortified cereals and breads may also contain this vitamin.
RECOMMENDED DIETARY ALLOWANCES [RDAs (mg/day) FOR VITAMIN B6 (9]
| AGE | MALE | FEMALE | PREGNANCY | LACTATION |
| --- | --- | --- | --- | --- |
| 0-6 months | 0.1 mg/day | 0.1 mg/day | | |
| 7-12 months | 0.3 mg/day | 0.3 mg/day | | |
| 1-3 years | 0.5 mg/day | 0.5 mg/day | | |
| 4-8 years | 0.6 mg/day | 0.6 mg/day | | |
| 9-13 years | 1.0 mg/day | 1.0 mg/day | | |
| 14-18 years | 1.3 mg/day | 1.2 mg/day | 1.9 mg/day | 2.0 mg/day |
| 19-50 years | 1.3 mg/day | 1.3 mg/day | 1.9 mg/day | 2.0 mg/day |
| 51+ | 1.7 mg/day | 1.5 mg/day | | |
WHO ARE AT RISK FOR VITAMIN B6 DEFICIENCY
Severe deficiency of vitamin B6 is uncommon. However, alcoholics are at high risk due to poor dietary intake associated with impaired metabolism of this vitamin (9).

Patients with inflammatory bowel disease, rheumatoid arthritis, celiac disease, Crohn's disease, ulcerative colitis, and other malabsorptive autoimmune disorders appear to have low plasma PLP concentrations [13].
FUNCTIONS
[9,11]
In its coenzyme form (PLP), vitamin B6 is involved in the metabolism of proteins, lipids, and carbohydrates as well as synthesis of amino acids and hemoglobin, the vital constituent of blood.

Vitamin B6 (PLP) also participates in glycogenolysis, the release of glucose from the stored glycogen in the body as well as gluconeogenesis, the synthesis of glucose from amino acids.

It also promotes the production of signaling protein of the immune system (i.e. interleukin-2) as well as immune cells (i.e. lymphocytes).

Vitamin B6 (PLP) also participates in the synthesis of nucleic acids.

There is an association between elevated levels of homocysteine in the blood and dementia. Vitamin B6 together with B12 and folic acid help maintaining normal levels of homocysteine in the blood as well as synthesis of neurotransmitters such as GABA (gamma amino butyric acid), dopamine, and serotonin. Thus it has a role in cognitive function.
DEFICIENCY OF VITAMIN B6
Abnormal electroencephalogram (EEG) patterns, microcytic anemia, and poor immune functions have been reported in vitamin B6-deficient adults (9–10).
Severe vitamin B6 deficiency may cause neurological problems such as irritability, depression, and confusion. Moreover, inflammation of the tongue, sores or ulcers of the mouth, and ulcers of the skin at the corners of the mouth are additional symptoms
(15).
Infants suffer from irritability, convulsive seizures and abnormally acute hearing due to vitamin B6 deficiency (10).
TOXICITY
Although vitamin B6 is a water-soluble vitamin and is excreted in the urine, long-term supplementation with high doses of pyridoxine (> 1000mg/day) may cause sensory neuropathy, a condition characterized by pain and numbness of the extremities followed by difficulty in walking (16–19). Gastrointestinal symptoms such as nausea and heart burn are also reported due to excessive vitamin B6 intake (16). To prevent supplementation overdose, the Food and Nutrition Board of the Institute of Medicine has set the tolerable upper intake level for pyridoxine at 100 mg/day for adults 9.
VITAMIN B6 AND HEALTH
Nausea and Vomiting in Pregnancy
About half of the pregnant women experience "morning sickness" characterized by frequent occurrence of nausea and vomiting in the first few months of pregnancy [20–21]. This condition usually lasts throughout the day and can disrupt a woman's daily functioning. Vitamin B6 at a dose of 10–25 mg three or four times a day is recommended by American Congress of Obstetrics and Gynecology (ACOG) to treat this condition [22].
Cognitive function and Alzheimer's disease
An association between vitamin B6 and better memory test scores in men aged 54–81 years was reported before [23].Moreover, a systematic review of 14 randomized controlled trials found insufficient evidence of an effect of vitamin B6 supplements alone or with vitamin B12 and folic acid on cognitive function in people with normal cognitive function [24].
A recent placebo-controlled trial found that a daily B-vitamin supplementation (B12, B6 and folic acid) that led to significant homocysteine lowering in high-risk elderly individuals could limit the progressive atrophy of gray matter brain regions associated with the Alzheimer's disease (25). Because of mixed findings, more research is needed to see whether vitamin B supplements may blunt cognitive decline in elderly people.
Cardiovascular diseases
Elevated levels of homocysteine has been identified as a potential risk factor for cardiovascular disease (26-28). Vitamin B6 together with folate and vitamin B12 are involved in homocysteine metabolism and thus might reduce cardiovascular disease risk by lowering homocysteine levels. However, the research to date provides inadequate evidence that vitamin B6, alone or with folic acid and vitamin B12, can help reduce the risk or severity of cardiovascular disease and stroke.
Premenstrual syndrome
Premenstrual syndrome (PMS) are symptoms, including but not limited to fatigue, irritability, moodiness/depression, fluid retention, and breast tenderness. PMS appears after ovulation and go down with the onset of menstruation. A meta-analysis of nine published
trials involving almost 1,000 women with PMS found that vitamin B6 at doses up to 100 mg/day are likely to be beneficial in treating premenstrual symptoms and premenstrual depression. However most of the studies analyzed were small and several had methodological weaknesses [29]. Another study showed that 80 mg pyridoxine taken daily over the course of three cycles was associated with statistically significant reductions in a broad range of PMS symptoms, [30]. The effectiveness of vitamin B6 in removing the mood-related symptoms of PMS could be due to its role as a coenzyme in neurotransmitter (i.e. GABA, serotonin etc) synthesis [31]. More research is needed to draw any conclusive role of vitamin B6 in alleviating PMS.
DRUGS
DRUGS USED FOR
INTERACTION
Birth control pills
Prevent unwanted conception
Reduce plasma PLP level

(Estrogen in pills may interfere with vitamin B6 metabolism)

Long term use of NSAIDs (nonsteroidal

anti-inflammatory drugs)

Prevent pain, inflammation
Impair vitamin B6 metabolism

Isoniazid and cycloserine

Tuberculosis
Reduce bioavailability of B6

L-Dopa

Parkinson's disease
Reduce bioavailability of B6
Moreover, large doses of vitamin B6 decrease the efficacy of two anticonvulsants, phenobarbital and phenytoin, and of L-Dopa [34, 19].
Refrences