[icon name="user" class="" unprefixed_class=""]  By Joanne P. Shelby-Klein BSN RN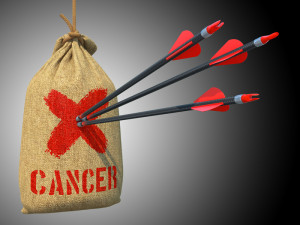 Studies reported in late 2014 and early 2015 show great promise in the use of PD-1 inhibitors as Immunotherapies for Melanoma and Non- Small Cell Lung Cancer. Most people ask what Immunotherapy and what are PD-1 Inhibitors. Immunotherapy is a medical treatment that uses the body's own immune system to attack and destroy something that it does not recognize as belonging to the body, such as a virus, bacteria or any unusual object. Immunotherapy can work one of three ways. It can induce, or activate an immune response, make an already active immune response more effective or stop an immune response to something.
PD-1 inhibitors or Program Death Inhibitors is the form of immunotherapy used to treat some solid tumors. The PD-1 inhibitor is actually a special protein, surface cell receptor shown on T-cells and Pro-B cells that help regulate the body's immune system. In a normal body they are vital to cell turnover and the correct working of the immune system. PD-1 inhibitors stop the activation of T-cells and prevents the body attacking itself. When cancer is present, the body reads the cancer cells as working like the body's normal cells, even though the cancer has a different structure than the normal cells. A PD-1 inhibitor can be given to stop the self- immune response , halt the cancer and is particularly effective in cells with the most damaged DNA. One of the keys to making this PD-1 inhibitor immunotherapy work for patients is identifying which patients would most benefit by the treatment based on the DNA of the cancer cells.
Figuring out exactly which patients would benefit from immunotherapy has baffled researchers and physicians since the first immunotherapy agent, Ipilimumab, was released. Ipilimumab is considered a Cytotoxic or cell killing T-lymphocyte antigen. Since that time, researchers have been beginning to understand why some tumors respond to immunotherapy and others don't. The biggest obstacle that researchers have faced is the fact that the process that prevents cell self-acceptance and autoimmunity also block the T-cells reaction and response to tumors since the tumors do not differ in structure from the normal cell cells, they just differ in function. The DNA landscape, or genetic make- up, of melanoma and other cancer cells can show a high mutational burden or changes from environmental factors such as exposure to Ultraviolet light and smoking.
Recent studies worldwide have found that mutational burden of the cancer cells may shape the response to the PD-1 inhibitor. The higher the mutational burden of the cells the greater the response to PD-1 inhibitor therapy. One theory regarding this is that person's immune system can be more and more exhausted by the amount of DNA damage and changes in the tumors. When patients on PD-1 inhibitor treatment had their tumors sequenced for the DNA, it showed that patients with the most DNA damage responded best to the therapy. The sequencing process used is whole-exome sequencing, which looks at the whole DNA proteins at a single point in time and can be used to guide the treatment plan for each patient as cancer cells have a higher DNA mutational change than other cells.
Memorial Sloane Kettering conducted a study to look at the whole exome sequencing of the tumor DNA. 25 patients treated with Ipilimumab had blood samples taken and sequenced or matched for DNA. The patients who had a low mutational change in the sequence showed minimal to no benefit from the treatment. Patients with a mutational change of greater than 100 showed a greater overall response rate than patients who had a mutational change under 100. The mutations were identified in the exomes and looked at their ability to start the body's immune response. This test was repeated and validated in separate groups of 39 patients each.
So how is this exceptional response explained? For medical treatment benefit the T-Cells must be activated by the tumor specific antigens and the cancer cells be recognized as foreign to the body. It is important to remember that the immune system looks at cell structure and not cell function before activating. To the immune system, cancer cells look like normal body cells with the exception of the cancer changes in function of the cells. For the immune system to recognize the cancer cell as foreign, the cancer cell must look like a target it needs to attack. Cancers such as Melanoma, Lung Cancer, Head and Neck Cancer. Renal Cell Carcinoma and Bladder Cancer have high mutational changes in the cells and may be most responsive to immunotherapy. This means that researchers will soon be able to offer patients a panel of tests that can be used to obtain a mutational profile of their genes and possibly identify good responders to immunotherapy by their genetic signatures on the cancer cells. Patients would then be able to be referred for the correct clinical trial and choice of immunotherapy.
PEMBROLIZUMAB STUDY
One study involving Non-Small Cell Lung Cancer took samples from 16 patients who were treated with Pembrolizumab, a PD-1 inhibitor, sequenced the DNA and categorized them as either High Mutational Burden or Low Mutational Burden. These two groups were then compared to the clinical outcomes of Objective Response Rate (ORR), Durable Clinical Benefit (DCB) meaning partial or stable clinical responses lasting 6 months or more, and Progression Free Survival (PFS). It was found that patients with high mutational burdens did better clinically. To validate the results obtained, 18 additional patients were tested and again showed a similar pattern. The data from the combined total of 34 patients were further analyzed and noted that the mutational burden changes from smokers were more responsive and did better clinically. The findings showed:
Objective Response Rate for patients with High Mutational Burdens was 56% while those with Low Mutational Burdens was 17%.
It was theorized that it is possible that the genetic damage in tumors can generate tumor specific antigens that become recognizable to the immune system as a foreign object and cause a tumor specific T-cell response the tumor.
In the above study, the PD-1 immunotherapy used was Pembrolizumab, also known as Keytruda. This drug was approved by the Food and Drug Administration for treatment of Melanoma in patients with advanced disease or inoperable disease and also not responding to other drug therapies such as Ipilimumab (Yervoy). These patients will have few treatments options. The approval was based on a study in 173 Melanoma patients with results as follows:
Patients either were given Pembrolizumab Intravenously at a dosage of 2 mg per Kg body weight or a dose of 10mg per Kg body weight. The medication was given every 3 weeks and the patients were followed for an average of 8 months.
Overall Reduction Rate was 26% at both doses. With 21 of 81 patients in 2mg per Kg group and 20 of 76 in the 10mg per Kg group.
No drug related deaths were noted and the treatments were well tolerated overall.
Safety was then tested in a total of 411 patients with most common side effects and adverse reactions as follows:
Fatigue or tiredness
Cough
Nausea
Itch
Rash
Decreased appetite
Constipation
Joint aches or arthralgia
Diarrhea
The potential threat of severe adverse effects towards healthy organs such as the lungs, colon and hormone producing glands and liver was identified. It was recommended that patients be monitored for severe effects on the organs during doctor visits including simple blood tests.
This drug shows a great potential for treating melanoma, as well as lung cancer. The above studies have created a new class of Drugs for PD-1 inhibitors and may lead to researchers to recommend Immunotherapy as a fourth treatment option for treating solid tumor cancer. One downfall of the medication is its cost. It is currently priced at $150,000 in the United States.
NIVOLUMAB
Nivolumab is the first PD-1 inhibitor used for immunotherapy to be approved in the world. It was approved in Japan for use in inoperable Melanoma cancer. It is also showing great promise in other cancer cell types as well, especially Non-Small Cell Lung Cancer and Hodgkin's Lymphoma after failure of autologous stem cell transplant and other treatment.
Nivolumab works by keeping the patients immune system ready to fight the cancer. It activates the patients own immune system to turn against the cancer and kill the tumor without chemotherapy treatment. This has a potential long term benefit because the immune system can re-activate against cancer growth and progression.
Nivolumab is given to patients every 2 weeks as an Intravenous infusion over 60 minutes at an infusion center or physician office. Each patients dose is individualized by body weight, with the usual dose being 3mg per Kg of body weight. This medication cannot be given to people under 18 years of age. Each patient will also be carefully monitored for side effects and adverse reactions.
This medication may attack healthy organs. Any new or unusual symptoms should be reported as soon as possible.
May develop a new or worsening cough, chest pain or trouble breathing. These can be signs that the lungs have been affected.
Abdominal Pain, diarrhea or loose stools and or bloody stools maybe a sign of colitis in the intestines.
Severe nausea and vomiting and or yellowing of skin and whites of the eyes may be a sign that the liver has been affected. Patients with liver issues may also notice tea colored or dark urine, pain on the upper right side of the abdomen, and extreme tiredness.
Swollen ankles, a decreased amount of urine output, blood in the urine and a loss of appetite may be a sign that the kidneys have been affected with either nephritis or even kidney failure.
If the hormonal glands are affected, patients may have new and unusual headaches that do not go away, dizziness or fainting, feel more tired than normal, gain or lose weight, have unusual mood changes, and feel colder than normal.
If the patient develops any of the above symptoms, the treatment may be delayed or stopped totally. Communication with the physician and nurses responsible for the treatment is very important to make sure that patients are safe and get the maximum benefit from the treatment
A clinical trial with Nivolumab was reported in the New England Journal of Medicine in January 2015. 418 previously untreated patients without the BRAF gene mutation were randomly assigned to receive 3 mg per Kg of body weight every two weeks and a dacarbozine-matched placebo every 3 weeks or dacarbozine every 2 weeks and nivolumab –matched placebo every 3 weeks. The patients were then monitored for overall survival rate. The results are listed below.
Overall survival rate was 72.9% in the Nivolumab group as opposed to 41% in the dacarbozine group.
The average progression free survival rate was 5.1 in the Nivolumab group and was 2.2 in the dacarbozine group.
The Objective Response Rate was 40% in the Nivolumab group as opposed to 13.9% in the Dacarbozine group.
Common adverse events noted in the Nivolumab group were tiredness, nausea and itch.
The results above lead to the study conclusion that Nivolumab led to significant overall improvement in overall survival and progression free survival in patients with advanced melanoma without the BRAF gene mutation in the cancer cell. The study results appear to correlate with other study results from both PD-1 inhibitors reviewed here.
The potential benefits of both Pembrolizumab and Nivolumab offer hope to patients with advanced melanoma, non-small cell lung cancer since they are newly approved by the Food and Drug administration. There are other PD-1 inhibitor drugs being developed and in the clinical trial stages. This is good news because the PD-1 inhibitors also offer potential hope for other difficult to treat cancers such as renal cell carcinoma, head and neck cancers and bladder cancers. One drawback is the cost of the medications. Both treatments currently cost $150,000 per year. However, both treatments offer improved survival rates to patients. That is good news indeed.
References
[/fusion_builder_column][/fusion_builder_row][/fusion_builder_container]