[icon name="user" class="" unprefixed_class=""]  By Joanne P. Shelby-Klein BSN RN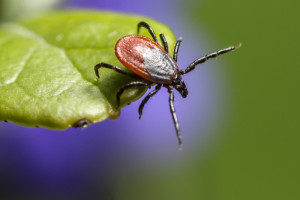 Researchers at the Centers for Disease Control (CDC) in Atlanta discovered a new possible tick-borne virus in 2014 while looking at samples taken from deceased patient from Kansas. They became involved because the patient died from what appeared to be an unusual tick-borne illness. The finding of a new pathogen or virus surprised them and the medical community. What is the virus and how did the scientists discover it?
The new virus was named the Bourbon Virus after Bourbon County Kansas, the county in which the patient got the illness. The virus belongs to the Thogotovirus family named after the Thogoto Forest Region of Kenya. There are now four types of viruses in the Thogotovirus family: the Batken virus, Dhori virus (DHOV), Thogotovirus (THOV) and the newly found Bourbon virus. Viruses in this family are usually transmitted by ticks and infect humans in natural outdoor settings. THOV has been found in Kenya, and Southern Europe. The DHOV has been found on ticks in India, Eastern Russia, Eygpt, and southern Portugal. DHOV is capable of infecting humans and causing fever as well as an acute inflammation of the brain. The only known human infection of the new Bourbon virus happened in Kansas in late spring 2014. There may have been other cases of the Bourbon virus but no one knows for sure.
To better understand the Bourbon Virus we need to look both at the patients case and then the CDC's involvement and research. In the late spring of 2014 a fifty year old male was working outdoors on his property in Bourbon County Kansas. He found several tick bites including one that was attached and feeding (engorged) from the blood supply in his shoulder. He promptly removed the attached tick. Then several days later he noticed symptoms consistent with a tick bite and became ill. The first signs and symptoms included, nausea, vomiting, diarrhea, and weakness. It is important to know that the day the symptoms first appeared is considered Day One of the illness.
The next day the patient was complaining of fever, loss of appetite, chills, headache, and joint pain. He remained at home and did not seek immediate medical attention. On Day three, he called his primary care doctor and was examined. The doctor treated him with the antibiotic Doxycycline because he had symptoms typical of a tick bite. By Day four the patient was seriously ill, drifting in and out of consciousness but still able to be awakened.
He was sent by ambulance to the local hospital. The patient had a complete physical exam that was found to be normal. His blood work did show a low white blood cell count (leukopenia), low platelet count (thrombocytopenia), a low sodium level, and a low potassium level. His kidney function showed he had a normal creatinine and mildly elevated blood urea nitrogen.
The doctors concluded, based on the exam and lab work that he had a tick-borne illness accompanied by dehydration and fainting from all the vomiting and diarrhea. They continued intravenous floods and antibiotics, yet he still complained of tiredness, no appetite and fevers.
By Day eight the patient was transferred to the University of Kansas hospital for a special evaluation, treatment and management, as the symptoms were not improving from the treatment received locally. The University of Kansas hospital collected more blood and tissue samples to check for other tick-borne viruses including Rocky Mountain spotted fever, Lyme Disease or the Heartland virus.
His physical exam on arrival at the University of Kansas hospital found the patient to have fever, swollen non-tender lymph nodes under his left arm and a wide spread rash on his chest abdomen and back, all signs of an immune response to an infection.
He still had low white blood cells and platelets in his blood samples and the doctors suspected that his bone marrow was no longer producing the necessary cells to maintain normal levels. Day nine found the patient awake and talkative with his caregivers and family even though he still had high fevers.
As day nine progressed he became increasingly short of breath and needed oxygen to help him breathe. A chest x-ray was done and found to have a build-up of fluid in the veins in the lungs, a finding that indicated either fluid volume overload or congestive heart failure. He was transferred to the Intensive Care Unit (ICU) for close monitoring and treatment.
They immediately started a broad spectrum antibiotic. Day 10 found the patients kidney function declining. He went into shock. The ICU staff quickly put a breathing tube in and placed him on a ventilator to help him breathe. His condition worsened and he went into a cardiac arrest. The staff then made multiple attempts to revive him but were not successful. They maintained him on a ventilator until Day 11, when the decision was made to stop all treatment including the ventilator and he died.
The Centers for Disease Control became involved in the case and all blood and tissue samples were sent their lab in Fort Collins Colorado for analysis to determine the virus that caused the death. They initially were looking for the Heartland virus, a virus that is given to people from a mosquito, sandfly or tick bite. They were looking at this virus as the culprit because the Heartland virus had been found in Missouri and Tennessee in patients during the months of May to September, just like the patient mentioned above who had been diagnosed in late spring. In addition, patients who had the Heartland virus had the similar symptoms and blood values as the man with the newly discovered virus. It was a natural starting place for the lab to look for the cause of death.
The blood and tissue samples from the Kansas man were negative for both the Heartland Virus RNA (a biological molecule that performs special coding and decoding duties within genes) and the antibodies formed by the body to fight the virus. As the samples were examined by an electron microscope, they noticed that there were viral placques in the sample that did not match those found in the cell walls of the Heartland Virus. This showed the researchers that another virus was present, not the heartland virus,and warranted further investigation.
The researchers used a special electron microscope capable of powerful Advanced Molecular Detection or AMD. AMD was able to look at the DNA and RNA in the patients samples, specifically the virus in question and compare it quickly to previously known viruses RNA and DNA. The availability of this equipment allowed the team to determine the virus was consistent with the Thogotovirus Orthmyxoviridae family. It did not match any previously identified virus in that family so they knew a new virus had been discovered. They named the virus after the Kansas County where it was discovered.
Further examination of the virus and the patients symptoms showed the Bourbon virus to be closely related to the Batken and Dhori virus both of the Thogotovirus family. It also showed an evolution distinction from both Dhori and Batken which are found in the Eastern Hemisphere primarily. Batken and Dhori have both been identified in ticks and Batken has also been identified in mosquitos.
This information has researchers asking how the new virus is transmitted to humans, is it by tick only, mosquito only or both tick and mosquito. Since there has only been one identified case in 2014, more investigation is needed. It will start by following up with information that is already known, that it occurred in late spring and happened after known tick bites. Once they have more information, they will ask important questions such as how did it get to the United States, where else in the world is it found and how can it be treated? They can then work on treatment and or vaccines so it does not become an epidemic.
What are the symptoms of the Bourbon Virus and Who is at Risk?
Symptoms of the Bourbon virus are very common with other viruses such as:
Fever or elevated temperature
Progressive tiredness and worsening fatigue
Rash that may be located on the chest, abdomen or back
Headache
Body aches
Evidence of tick bites or known tick bites
Nausea and vomiting
Low white blood cell count and low platelet count
Infection with the Bourbon virus should be suspected if the above symptoms are present and all other more obvious causes for the symptoms are ruled out by doctors. People are at risk for getting the Bourbon virus if they are bitten by a tick or insect. If bitten by a tick or insect, it is important to watch for the above symptoms and contact your doctor for prompt treatment. The infection may not be the Bourbon Virus but doctors will be watching to see how you respond to normal treatments for tick bites. If you don't respond to normal treatments, the doctors might suspect you have the Bourbon Virus. This virus is so new, (identified in one case only), more research is needed including what type of treatment will be effective. For now ,it is best to avoid tick bites if at all possible.
How can I keep from getting a tick bite and infected?
Warmer months are when most ticks are moving about and active. This is the time to take extra precautions against bites. These precautions include:
Stay away from wooded and bushy areas including areas with high grass and leaf litter
If hiking, stay to the center of the trails. If camping, look to set up in the clearest available area.
Use tick repellents that have 20-30% DEET as the main ingredient. Put the repellent on all exposed skin and reapply every several hours.
Use products that contain permetherin on all clothes, shoes, boots, sleeping bags, tents, blankets. Permetherin remains effective through several washings.
Wear long sleeves and long pants, preferably in light colors. It's easier to see a dark tick on light colored clothing and light colored clothing is also cooler on hot days. Tuck pants into socks and make sure that shirts are tucked in at the waist. If you are in a thick grass area, wrap duct tape around your ankles and over top of the socks.
As soon as you come inside, shower or bathe within two hours if at all possible.
While bathing or showering, search your body for visibile ticks. Use a hand held or full length mirror to check every part of your body. Pay attention especially to the under arms, ears, belly button, behind the knees, between the legs, around the stomach area and especially the hair.
Check all items used out doors and especially pets. Hidden ticks can bite a person later.
Put clothes in a dryer and tumble them dry on high for at least an hour to kill any possible ticks missed by a visual exam.
What should I do if I find a tick on me?
Remove the tick as soon as possible. Infection can be spread when the tick begins feeding on the blood supply near where it is attached.
Use pointy tweezers to remove the tick. Ticks are tiny and standard household tweezers will not work as well.
Wipe the tick area very carefully with rubbing alcohol or antibacterial soap and water to clean the area of any germs. Do this before removing the tick.
Use the pointy end of the tweezers to grab the tick at or above the head. Make sure the tweezers are as close to the skin as possible.
Use a firm steady upward pull to remove the tick without breaking it. If the head remains its ok. Disease cannot be transmitted without the ticks body body being attached to the head.
Clean the area once again with rubbing alcohol or antibacterial soap and water.
Call your doctor to see if you should take the tick into a lab for testing.
What is a normal treatment if I get an infection from a tick?
If you get symptoms after a tick bite, your doctor will give you an antibiotic such as doxycycline twice a day or amoxicillin four times a day for 14 to 21 days. If the infection is severe intravenous antibiotics are in order until you are stable and then take antibiotics by mouth for a total of 30 days. The key to surviving a tick-borne illness is treatment by a doctor as soon as the symptoms are noticed and taking the antibiotics as prescribed for the full duration of time ordered.
References