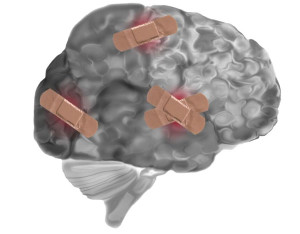 [icon name="user" class="" unprefixed_class=""]  By Joanne P. Shelby-Klein BSN RN
Concussion is a term we often hear especially as it relates to athletes and sports related injuries. Did you know that a concussion is also known as a mild form of Traumatic Brain Injury or TBI and affects about 1.4 million Americans yearly? With people spending more time with outdoor activities and sports and preparing for the upcoming fall athletic season, this is a good time to review what a concussion is, how it is diagnosed, treated and review research into the subject.
WHAT IS A CONCUSSION?
The most common cause of a concussion is from sports activities and sports related injuries. It usually occurs when there is a blow to the head or the head strikes a hard object. Normal brain function will be disturbed as a result of the impact. X-rays and imaging studies such as MRI's and CT Scans shows no damage to the physical structure of the brain but brain dysfunction does occur. It is believed that there is neuronal (nerve) damage that occurs from the impact and that the neurotransmitters that cause too many of the nerves that excite or stimulate to be released. Blood flow to and through the brain may be temporarily halted and the person will experience symptoms that alerts others that something is wrong.
WHAT ARE THE SYMPTOMS OF CONCUSSION?
Loss of Consciousness is often the first sign that a concussion has occurred. However not all people with concussions become unconscious.
The person may be slowly to answer questions, appear to in a daze or stunned, may not be aware of their surroundings.
Memory Loss. The person may not remember their own name, day of the week, date or time.
Retrograde Amnesia may be present. The person may not remember what occurred before or during the injury. They may not remember what they are supposed to do as a part of the activity.
Anterograde Amnesia may also be present. The person may not remember the events after an injury.
Double vision, blurred vision or sensitivity to light may be noticed.
Dizziness, stumbling, clumsy movements and poor balance may be observed.
Headache may appear and be severe.
Symptoms may persist for a few hours to a few days and even longer. These symptoms, which may last for several weeks, are known as Post-Concussive Symptoms and include:
Chronic Headaches that may be either dull or sharp.
Trouble remembering things that happened recently or instructions just given.
Difficulty thinking and learning.
Feel tired most of the time or feel fatigued, have little to know energy.
Trouble sleeping, either falling asleep or trouble staying asleep.
May become irritable or have mood swings.
Be very sensitive to sounds and excess noise, as well as lights.
HOW IS A CONCUSSION DIAGNOSED?
A concussion should ideally be identified and diagnosed by a healthcare professional that has experience working with head injuries and neurological issues. If a concussion is suspected, the injured party should immediately stop playing or halt activity and be evaluated immediately by a professional trained in the use of the SCAT 3 and Glasgow Coma Scale.
SCAT 3 is used to evaluate people age 13 and older and stands for the Sports Concussion Assessment Tool 3rd edition. Only a specially trained healthcare professional should administer this test. This test should not be used alone in determining if a concussion is present. It looks at 22 neurological and physical symptoms. Each symptom is rated from 0, meaning no symptoms present to 6, meaning the symptom is severe. The results are added up to determine the SCAT score. The total result can be compared to a baseline result, if available. The higher the total score, the more severe the concussion. As part of the SCAT 3, they will also test immediate memory, orientation to person, place and time, ability to concentrate as well as an evaluation of the neck, balance and coordination.
GLASCOW COMA SCALE is an easily administered neurological scale that can be used to evaluate suspected head injuries. It looks for the best score in 3 area; Eyes, Verbal and Motor. The score from each area is added together to come up with a total number between 3 and 15. A score of 13 indicates the presence of a mild brain injury, a score between 9 and 12 shows a moderate brain injury and a score below 8 indicates a more severe injury.
A third test, called Maddocks test, can be given by anyone to the suspected injured person. It involves answering 5 simple questions with a score of either 0 or 1. 1 point is given for every correct answer. The questions include:
Where are we today?
Which half is it now or where are we in the game?
Who scored last?
What team did you play last game?
Did your team win the last game?
Any person who is suspected of having a concussion must stop their activity immediately and not be left alone. They should have a thorough medical exam to determine the extent of the injury to the brain and they should not able allowed to drive a vehicle or operate any machinery until the medical evaluation is complete.
WHAT TREATMENT SHOULD BE DONE FOR A CONCUSSION?
Immediate action is indicated if a concussion is suspected. Person needs to stop play and activity and be referred to see a doctor who specializes in concussions. This doctor may refer the person for an MRI or CT scan to make sure there is no bleeding in the brain or skull fracture. It is important to wake the patient every 1-2 hours for the first 24 hours and ask their name, where they are and watch for any twitching or seizures.  The person also must be carefully watched for the first 24-72 hours for any signs of worsening symptoms including:
Worsening headaches
Difficulty waking up or appears very drowsy/sleepy.
Ongoing or repeat vomiting
Arms or legs that are weaker or going numb.
Pain in the neck
Changes in behavior or personality.
Increasing or unusual irritability or anger.
Any loss of consciousness
If any of these symptoms occur in the 24-72 hour time frame, seek prompt medical attention.
Treatment for concussion should also include discussing past medical history including previous concussion history. People who have a history of previous concussions are at risk for having prolonged or worsening concussion symptoms. It takes 3 times longer for someone to recover from concussion symptoms if they have a history of a concussion in the previous year. People with 2 or more previous concussions took twice as long to recover as a person with only 1 previous concussion.
Discuss with the doctor any past experience with headaches and any family headache history. The more information that can be provided to the doctor the better for long term treatment planning purposes.  A history of having headaches, especially migraines can cause the recovery from concussions to be more complicated and extended.
Doctors also need to know if there is any history of learning disabilities, autism, ADHD or developmental delay. People with a concurrent diagnosis of concussion with any of these other conditions may require a longer treatment and recovery time.
It is also important for the doctors to know about any mental health issues such as depression and anxiety, mood disorder or any sleeping issues. Mental health issues can also affect recovery times.
Home Care of the patient with a concussion should include:
Getting plenty of rest and sleep
Nap or take a break when start to feel tired.
Limit physical and mental activities that require concentration and thinking.
Do not play sports or intense physical activity as long as symptoms are present. It is recommended the patient be 24 hours symptom free before getting the ok from the doctor to return to activities.
Take the mildest pain reliever possible for any headaches.
Follow up with the doctor as instructed including an ordered testing.
WHAT CAN HAPPEN AFTER A CONCUSSION?
People of any age have full recoveries from concussions. One study showed that 90% of young adult males recovered fully in about 21 days. Some continue to have concussion symptoms up to 90 days after diagnosis. With each successive concussion the recovery times become longer and the long term risk of Post-Concussion Syndrome (PCS) becomes greater. According to the American Nurse today, 30-80% of people who are diagnosed with a concussion develop PCS. PCS symptoms usually start a few days after the concussion and may last for several months or years. PCS causes damage to the white matter of the brain. Brain white matter is located in the inner layer of the brain and contains the neurons that make brain connections. Damage to the white matter changes how the brain processes information and can lead to the ongoing concussion symptoms. Unfortunately, common tests such as MRI and CT Scans do not show damage to the white matter.
On physical exam the patient may have normal neurological results even though symptoms are present. Two different tests can be used to determine if PCS is present.
ANAM or Automated Neuropsychological Assessment Matric is usually used for military personnel and tests for the speed and accuracy of attention, memory and thinking ability. It is not a diagnostic test but actually measures and records the results of the computerized test that is given periodically.
The IMPACT test or Immediate, Post-Concussion Assessment and Cognitive Testing is the first scientifically validated computer based concussion assessment system. Ideally, athletes will have the test completed before participating in any sports activities. This baseline test can then be used to measure any changes in thinking, memory and neurological functioning after an injury occurs.
WHO IS AT RISK FOR PCS?
The severity of the injury is not a good predictor of who gets PCS. The risk is greater in females, patients who are older, are considered to be a lower socio-economic status, have a history of headaches or concussions and have a history of mental health issues. If a patient is evaluated in the Emergency Department as close to the injury time as possible and is taught the signs and treatment of concussion as listed above, the risk of long term effects is minimized. It is important that patients be instructed to follow up with healthcare professionals who are trained in care of concussions. Reassuring patients and family members that it can take time to recover from a concussion is very important.
WHAT CAN BE DONE TO PREVENT CONCUSSIONS OR LIMIT THE SEVERITY OF CONCUSSIONS?
Concussions can happen to anyone, at any age and can be difficult to prevent. People fall, motor vehicle and bicycle accidents happen and many athletes can have head injuries simply by playing the game. Falls and motor vehicle accidents often cannot be avoided, so there is little that can be done to prevent a concussion as most people don't wear helmets for everyday living. Wearing seat belts and using car seats for infants and children will help.  A literature review of 51 research studies shows that wearing helmets for riding motorcycles, skiing, snowboarding, hockey, football and baseball can decrease the risk of having a head injury however there is no conclusive evidence that it decreases the risk or severity of a concussion. The use of mouth guards may or may not decrease the risk of severe injury and concussion. Research continues to be ongoing in this area because decreasing the amount of concussions, especially in young people, is a public health concern, due to the risk of recurring concussions and long term bad effects.
One aspect of head injury and concussion prevention that needs to be stressed is concussion symptom recognitionby both athletes and personnel on the sidelines. This involves educating and encouraging athletes as well as sideline personnel in the signs of a concussion and the importance of stopping play if any are noticed. It is also important that all athletes, coaches and parents enforce participation on teams who abide by the rules of the game and safety, including not returning to practice or play until the concussion symptoms have resolved. Brain health and safety is all of our responsibilities.
REFERENCES:
Wilberger, JE MD, Dupre, DA MD. (2013 October) Sports Related Concussions.Merck Manual Professional Edition. Retrieved from URL: http://www.merckmanuals.com/professional/injuries-poisoning/traumatic-brain-injury-tbi/sports-related-concussion
Jordan, BD. (2013, April). The Clinical Spectrum of Sport-Related Traumatic Brain Injury.Nature Reviews Neurology9, 222-230 (April 2013) | doi:10.1038/nrneurol.2013.33
Subhasni, D. Singh, J. (2013, December). Journal Watch: Previous and Recent Concussions Extend Recovery Time. AJN, American Journal of Nursing December 2013, Volume 113 Number 12, p 65 – 65
Cripton, PA. Dressler, DM. Stuart, CA. Dennison, CR. Richards, D. (2014, September). Bicycle helmets are highly effective at preventing head injury during head impact: head-form accelerations and injury criteria for helmeted and unhelmeted impacts.Accid Anal Prev. 2014 Sep;70:1-7. doi: 10.1016/j.aap.2014.02.016. Epub 2014 Mar 28
Bergman K1, Given B, Fabiano R, Schutte D, von Eye A, Davidson S.(2013, June). Symptoms associated with mild traumatic brain injury/concussion: the role of bother. J NeurosciNurs. 2013 Jun;45(3):124-32. doi: 10.1097/JNN.0b013e31828a418b
Benson BW1, Hamilton GM, Meeuwisse WH, McCrory P, Dvorak J. (2009) May). Is protective equipment useful in preventing concussion? A systematic review of the literature.Br J Sports Med. 2009 May;43Suppl 1:i56-67. doi: 10.1136/bjsm.2009.058271.
Sports Concussion Institute. (2012). Retrieved from URL: http://www.concussiontreatment.com/forprofessionals.html
Neal, MT. Wilson, JL. Hsu, W. Powers, AK. (2012, February).  Concussions: What a Neurosurgeon should know about current scientific evidence and management strategies. Surgical Neurology International. Retrieved rom URL:http://www.ncbi.nlm.nih.gov/pmc/articles/PMC3307233/
Swearingon, PA. (2012). All In One Nursing Care Plan Resource 4th Edition. Elsiever Inc. Page 343. Retrieved from URL:https://books.google.com/books?id=JrzMBgAAQBAJ&pg=PA343&lpg=PA343&dq=nursing+care+plans+for+concussion&source=bl&ots=QrIrLNMF_L&sig=h_DNfEsIcOyMbtMw9vYO2dsfe0A&hl=en&sa=X&ved=0CB0Q6AEwADgUahUKEwjE4vmDve
PGAhWWMIgKHbrJCaI#v=onepage&q=nursing%20care%20plans%20for%20concussion&f=false
Lavin, A. MSN RN APNP.(2013, April).Post-concussive syndrome: What patients and providers need to know. American Nurse Today. Retrieved from URL:http://www.americannursetoday.com/post-concussive-syndrome-what-patients-and-providers-need-to-know/