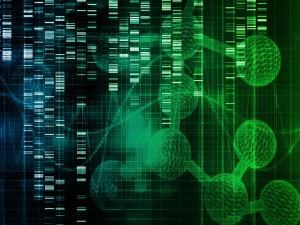 Joanne P. Shelby-Klein BSN RN
Genetic research involving cancer has been ongoing since the 1980's when scientists around the world sought to find a genetic link to breast cancer. In the early 1990's, researchers at University of California Berkley found the Breast Cancer Susceptibility Gene or BRCA gene 1. By 1994, mapping and sequencing of the gene found by Myriad Laboratory in Utah seemed to find the link including mutations and caused great excitement and hope for the future.
WHAT ARE THE BRCA GENES AND WHAT DOES IT MEAN IF IT MUTATES?
The BRCA 1 and 2 genes are important genes that all humans have. These genes are responsible for making the tumor suppressing proteins that repair damaged DNA and help to keep the individual cells genetic materials stable. If one or both of the BRCA genes changes or mutates and does not correctly produce the protein product, damage done to the DNA may not repair itself properly leading to cells possibly developing other gene alterations that can lead to cancer. If a woman has the mutated BRCA 1 or 2 gene, she may be at a higher risk for developing breast or ovarian cancer. Mutations in the BRCA 1 or 2 can be passed down from generation to generation and can be present in families with a history of ovarian and or breast cancer. It is important to remember, according to the Centers for Disease Control, that most breast and ovarian cancers are not caused by the mutations in the BRCA 1 and 2 genes and may only be useful for predicting cancer risk in a few women. However, there still is value in having genetic testing done.
WHAT CAN GENETIC TESTING TELL ME?
Genetic testing can be used to help predict the chances of a person developing different types of diseases including some types of cancer. It provides an estimate of the risk of developing cancer in your lifetime. In addition to predicting the risk for developing cancer, genetic testing can show the presence or absence of a cancer risk gene that could be passed down to children and grandchildren. Genetic testing can also be used to develop a plan for frequency and type of screening as well as managing other risk factors. It is important to remember that genetic testing cannot tell with 100% accuracy that you will or will not get cancer; it can only tell you if you have a greater risk for developing cancer than the general population.
WHAT ARE SOME INDICATIONS THAT GENETIC TESTING SHOULD BE DONE?
Genetic Testing is a very personal issue and needs to be discussed in depth with your doctor. Some things to discuss include:
Your family history of cancer, especially if you have had three or more members of the family with either breast or ovarian cancer. This includes family members from both your father and mother and should include mothers, daughters, granddaughters, nieces and sisters
Did two or more family members on either side have a history of cancer?
If any family members have a positive history of cancer, how old were they when it occurred.
Did any family members have multiple types of cancer and at what age did they occur?
Any of the above situations may be an indication that genetic testing should be considered. Before any genetic testing is completed it is important to have genetic counseling to discuss what will occur.
WHAT IS GENETIC COUNSELING?
Genetic counseling involves talking with a health care provider who has received special training in genetics such as doctors, counselors, nurses, social workers and psychologists. This counseling will help you explore the risks, benefits and any limitations of the genetic testing being used. It is a time to ask questions and discuss if the testing is really needed as each patients situation is different and testing may not be appropriate. In addition to reviewing your family history other areas will be explored as follows:
What genetic tests will be done and how accurate are the results?
What does it mean medically if I get a positive or negative test result?
What happens if the test results don't give enough information to help me make health care and treatment decisions?
What is the risk of passing a gene mutation to a child?
How will my mental health be affected by knowing the results, will it give me peace of mind or upset me?
It can help you make medical decisions to help lower your risk for getting cancer such as making changes in lifestyle, medications and even surgery.
You may be asked to have cancer screening tests more often than someone in the general population.
If you know a family member has had cancer from a specific gene mutation, it can lower your anxiety about developing cancer and can help you have a plan for monitoring.
ARE THERE OTHER THINGS TO CONSIDER ABOUT GENETIC TESTING?
Genetic testing is not perfect and is not an exact science; it is only a guideline, a risk predictor. This limitation can have many effects on a person including:
Depression and anxiety. A positive test result means that the gene mutation exists. Some people may become anxious or depressed with a positive result because they think they will develop breast cancer. They may also begin to view themselves as sick even if cancer does not develop.
Guilt can develop if other family members have the gene mutation and they don't.
Family tension can be created when a family member tests positive for the gene mutation and feels that they must share the results with other family members and encourage other family members to get tested.
A person with a negative test result, meaning there is no gene mutation present can still develop cancer, even if other family members have the gene mutation. Cancer can still be caused by lifestyle and other environmental factors.
The testing provides unclear results. There may be a genetic mutation present that is currently not linked to cancer risk. There could even be a gene mutation present that is undetectable by the currently available tests. Cancer could still develop because there are so many cancers not yet tied to a specific gene.
Genetic testing can be very costly and may not be covered by insurances.
WHAT IS NEEDED TO HAVE GENETIC TESTING DONE?
Getting the sample for genetic testing is simple. After you have talked with your doctor and had genetic counseling, you will sign a consent form and receive a doctors order for the test. You will then need to provide a small sample of your skin, saliva, or usually blood to be sent to a laboratory that specializes in genetic testing. It takes several weeks for the lab to complete the tests and send the results back to the prescribing doctor. Once the doctor gets the results an appointment will be scheduled to discuss the results and develop the best treatment and monitoring plan for you.
WHAT DOES IT MEAN IF THE TEST IS POSITIVE OR NEGATIVE?
The results can be a little complicated. In addition to being positive or negative, the results can be true negative, uninformative negative, false negative, variant of unknown significance, or benign polymorphism. Because the results can be so complicated it is important to talk to your doctor and a genetic counselor to discuss the results and what they mean for you.
POSITIVE: If the test reports the result as positive, it means that the lab reported a specific gene mutation that matches those found in hereditary cancer syndrome. This positive result may mean confirm an already known hereditary cancer syndrome diagnosis or may point to an increased risk of getting certain cancers sometime in the future.
A positive result can also show a person that their genetic change doesn't increase their risk for cancer but increases their childrens risk of certain cancers if the child inherits another altered gene from the other parent. A positive result may also lead the doctor to recommend further testing and also may serve as a guide for other family members to discuss their own health care needs. Remember the positive test result shows an increased risk for getting cancer in the future and can be used to create a plan for early detection or even reduce the risk of getting cancer in the future. It may lead to you to have cancer screenings sooner than the recommendations for the average population as well as having the screenings done more often. A positive result can also lead to making positive lifestyle changes such as stopping smoking, increase exercise and physical activity as well as eat a healthier diet. In a very small number of hereditary cancer cases, the doctors may discuss taking medications or even removing tissues that may be suspect or at risk.
NEGATIVE: If the results come back negative, it means that the specific gene mutation being tested was not found by the lab. The test is a true negative when it has been done because the mutated gene is known to be present in some family members and the person now being tested does not show the mutation as being present. This true negative result means that family member being tested is not at an increased risk for the hereditary cancer but instead carries the same risk as the general population.
Some people have a family history of cancer but without the family members having the gene mutation. If the person being tested has a negative result it may be labeled as uninformative negative meaning it does not provide a useful result for screening and management purposes as well as for predicting future cancer risk.
A false negative result means that it is impossible to tell if the gene mutation not being detected is a result of a particular test simply not picking it up or the person truly has no cancer gene present or they may have a gene mutation present that was not tested for or is unknown.
If the test result comes back as variant of unknown significance, it means that the test result is uncertain or ambiguous. An ambiguous result makes it difficult for cancer risk and medical treatment decisions to be made.
Finally, the test result may come back with a report of a genetic change that is common among the general population. This result is known as a polymorphism or commonly occurring genetic changes that everyone has and do not put people at risk for disease.
WHAT HAPPENS IF THE TEST RESULT IS POSITIVE FOR THE BRCA GENE MUTATION?
There are different options for people who have the gene mutation and increased cancer risk.
More frequent or Enhanced Screening. This can include starting cancer screening tests at a younger age than recommended for the general population, for example a yearly mammogram at age 25 or 35. This can increase the chance of detecting breast cancer at earlier, more easily treatable stage.
Based on recent studies, the doctor may recommend that you have an MRI and a mammogram on a yearly basis. MRI's have been shown to be more sensitive in women at risk for breast cancer, but there are some cases where a mammogram will identify breast cancers better than an MRI.
Risk Reducing or Prophylactic surgery may be recommended by your doctor. What this means is tissue that is at risk for developing cancer will be removed. Some women choose to have both breasts removed in the hope of preventing breast cancer. Keep in mind that cancer may still develop, but this procedure does decrease the risk of cancer.
Chemoprevention. Certain drugs, vitamins and other agents can be given to lower the risk of getting cancer or preventing a reoccurrence. There is no clear evidence yet on how effective this preventative treatment is.
Researchers and doctors are only beginning to understand the role of gene mutations on the BRCA genes and cancer. There are still many unanswered questions such as what other genes may play a role in cancer development. There are still questions about what more can be done to reduce cancer risk once a gene mutation is known. This is why a good open dialogue with your doctor and healthcare team about your risk and concerns is so important.
References:
Centers for Disease Control. (2014, June) Genomics and Health. Center for Surveillance, Epidemiology and Laboratory Services. Retrieved from: http://www.cdc.gov/genomics/resources/diseases/breast_ovarian_cancer/testing.htm
American Society of Clinical Oncology (ASCO). (2015, January). Genetic Testing for Cancer Risk. Retrieved from: http://www.cancer.net/navigating-cancer-care/cancer-basics/genetics/genetic-testing-cancer-risk
National Cancer Institute. (2013, April). Genetic Testing for Hereditary Cancer Syndromes. Retrieved from: http://www.cancer.gov/about-cancer/causes-prevention/genetics/genetic-testing-fact-sheet
National Cancer Institute. (May, 2015). http://www.cancer.gov/about-cancer/causes-prevention/genetics/risk-assessment-pdq
National Cancer Institute. (2015, April).BRCA1 and BRCA2: Cancer risk and genetic testing. Retrieved from: http://www.cancer.gov/about-cancer/causes-prevention/genetics/brca-fact-sheet
Lentz, G. Lobo, R. Gershenson, D. Katz, V. (2012). Comprehensive Gynecology. Page. 313.
Parthasarathy, S. (2007 Mass. Institute of Technology). Building Genetic Medicine Breast Cancer, Technology, and the Comparative Politics of Health Care. Pages 4-6.
Sandbach, J. et al. (2015) A Study of Triple Negative Breast Cancer Patients tested with a 25 Gene Panel of Hereditary Cancer Genes. ASCO abstract 1067. http://www.medpagetoday.com/MeetingCoverage/ASCO/51918
Topol, EJ. (2015, May) Topol: Time to End Mammography. Medscape. Retrieved from: http://www.medscape.com/viewarticle/844153